Sunbeams Home has since grown to 135 children, both boys and girls with ages ranging from two to 18 years old. Over the years, it has given guidance, shelter and a future to hundreds of children who have been sent to the Home, some by their own parents who have been unable to care for them, and others rescued from abusive homes.
Our Team
Our Founder Chairman Pastor Alvin Tan,
Our General Manager Pastor Victor, Board of Trustees, Together with 43 salaries members of staff run the homes. The team of employees include; child carers, cooks, home coordinators, admin, home school principal and teachers, general workers, drivers, carpenter and others. Together, they manage and operate seven sectors comprising Boys' Home, Girls' Home, home school programs called Sunbeams Community Learning Centre, food program called Food-on-Wheels, daycare service, a branch in Alor Gajah, Melaka and Orang Asli care.
We look forward to working hand-in-hand with you.
Pastor Alvin Tan Ooi Seng
It is hard for me to believe that we have been on this journey for more than 25 years now, ever since I started building Sunbeams Home with my wife, the late Pastor Lucy and the people you see me working with today. It truly has been a blessed journey and only with the grace of God and the dedication from all those who wish to help that we are allowed to keep going and to keep growing.
Show more
Sunbeams aims to provide a home
for dispossessed children, with no discrimination for any differences, be it race, gender or creed. We aim to provide a home with love and compassion for children who have been orphaned, abused, abandoned and those from broken families. With care and guidance, we believe that they will grow into adults who live independent, quality lives. But first, we must build that foundation to help them reach the ultimate goal.
Through our Community Learning Centre, we provide quality education – a stepping stone for the children to achieve a better life. Having spent many years as a teacher, I can understand that merely providing daily needs is not enough – and these children need to be given a platform on which they can truly become the best they can be.
Our Home seeks to foster and nurture moral values into our children
so that they may understand what it means to be a good person.
Building moral fibre and discipline
is one of our biggest goals, so that our children will move forward to do good and will also give back to those in need – as they once were.
Sunbeams also provides help to poor and destitute families, as well as single parents from lower-income brackets, caring for their young whom they find hard to finance as they are themselves in a desperate situation.
To achieve all this, we need your help. With the many projects that Sunbeams is currently pursuing as well as maintaining the Home, we need the funds to help us on our way as we need at the very least RM 150,000 a month to cover all the costs that come with our endeavours. This includes the many resources and talents we need to provide for the children such as the staff who work diligently to ensure Sunbeams operates at the best it can and the vans that require repairs and maintenance due to many years of hard use and travel.
One such project is the long-awaited new home for girls, which has been

 

a long drawn project (over 20 years!) due to insufficient funding.

 

We have been unable to implement all the necessary repairs and construction due to the slow trickle of funds. It will take an estimated

 RM 300,000 

to help us cross the finish line on this.
With this support, we are hopeful that we can continue and finally complete this twenty-year ambition, with all the furnishing and staffing so that we will have a proper place to house the 49 girls in Sunbeams Home as well as having the capacity to welcome more down the road. Expressing gratitude and appreciation to people who help others is never easy, as the effort they put in is immeasurable compared to words that can be said. Especially those who commit to providing a better future for those who have so much of a future ahead of them, or simply said, our children.
We take this opportunity to thank all our donors, sponsors, volunteers, and well-wishers from the bottom of our hearts for your continuous support towards our Home. Your efforts and partnership help us to make a positive difference in the lives of our children and keep us going.
Love, compassion, and generosity reap its rewards in many ways, but none is as great a reward as seeing a child grow to the best that they can possibly be.
We are looking to grow our family of supporters and would like to invite companies, corporations, individuals, and groups to come to join us and partner with us in accomplishing our mission. Help us make that difference. We look forward to hearing from you.
Thank you once again and may God bless you now and always.
Pastor Alvin Tan Ooi Seng
Founder Chairman
Pastor Victor Maniam
I would like to, first of all, take this opportunity to thank all our volunteers, donors, sponsors who have partnered selflessly with us to give our children a better life.
Your monetary donations and services in kind are much appreciated. We will not be where we are without your continuous generous support. I also would like to thank our team of dedicated staff for their hard work and commitment to serve the children and help them grow to become wholesome adults.
Show more
During my 20 years of service in Yayasan Sunbeams Home
I have seen the children's lives change for the better in terms of their character and they are more confident of themselves. They also know they can have achievable dreams and goals if they work at it. Most of our older children who have left the home are gainfully employed and independent.
This gives me much joy and fulfilment and indeed our labour has not been in vain.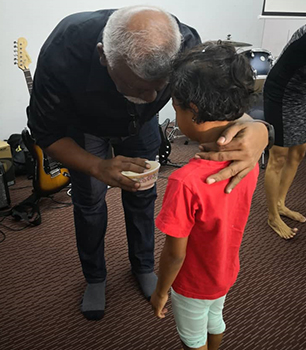 "Don't cry, you are having a fever, you cannot eat this stuff, not for now ok."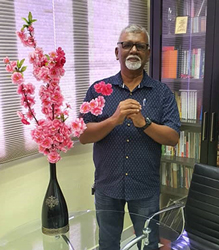 "Dear donors and sponsors
may God bless you richly and abundantly."
My vision 

for the future of Yayasan Sunbeams Home is that
we will continue to help as many displaced children in our community as our capacity allows, to give them hope for a better future. I also look forward to more committed volunteers to come help us teach and nurture these children to become caring and good citizens of the nation.
Apart from the children, my biggest concern is the group of a very devoted team of people who are working in the Home. People are quick to donate food, books, anything related to the children. However, we always have problems paying salaries and wages. Many of them have already accepted below market rates but a few years ago, they had to take a 20% pay cut which we have no ability to reinstate.
During the pandemic of COVID-19, we have no money to pay them. Still many stayed on because of their love and devotion to the Home and the children.
Your donation will ensure that these kind souls find a way to support their own families and continue to play their important roles in Sunbeams Home.
To God be the Glory always.
Pastor Victor Maniam
General Manager
Our Trustees
Our Board of Trustees oversee the overall legal responsibility of our Home, making decisions as the governing body. They ensure the Home operates within its constitution's/trust deed's formal rules as well as the Acts which govern the type of organisation. The Trustees Board retains overall legal responsibility and may only delegate as far as their governing document or the relevant legislation allows. Our trustees demonstrate values such as honesty, integrity and are committed to the charity's aims and values.
Pastor Khor Hoe Chai
graduated from Melbourne University in 1983 with an honours degree in architecture. He then worked in a large architectural firm for 14 years. In 1999, he answered the call of God to go into full-time ministry as a pastor and left the architectural profession. He is currently the senior pastor of the Hope of Glory Centre, a church in Ampang which he founded with a group of young people in 1994.
Pastor Ang Chui Cheng
has been co-pastoring River of Life Sanctuary for the past 12 years. He is an old associate of Pastor Alvin Tan and they have worked together in various ministries such as the prison ministry. Pastor Ang shares the same social concerns as Pastor Alvin Tan as followers of Jesus Christ and fully supports Yayasan Sunbeams Home in caring for the underprivileged and abandoned children.
Phoon Yew Sang
grew up in Taynton View, Cheras and went to school in Cochrane Road School from the years 1980 – 1986. Having served in ING Insurance Berhad for 14 years, the last 3 years as Senior Director, Employee Benefits Division of ING Insurance Bhd, he retired to devote time in response to his calling alongside Logos International Leadership College to impact the church and lay leaders in Malaysia, Cambodia and the Philippines before joining Meta Pte Ltd as associate principal consultant to help generate funds for the Logos Scholarship Fund. His wife Audrey and Yew Sang have been married for 24 years and have no children.
Goh Khoon Seng
came to know the Lord in 1970 and was involved in the Navigators ministry. Having graduated from Technical College KL in Electronics Communications, Khoon Seng worked for Telecoms Department for 5 years and then Hewlett Packard Medical Division. He has been in the Healthcare Industry for almost 40 years. Khoon Seng was involved in starting up a small church in KL and another in Singapore. He was also the Chairman of Asian Beacon magazine for about 4 years. Now, he attends SIBKL and is involved in their Promised Land Ministry. Khoon Seng is married with 3 grown up children.
Get In Touch
Location: 57 & 59, Jalan Bunga Melur 11A, Taman Mawar, 56100 Kuala Lumpur, Malaysia
Telephone: +603-42953949 / +603-42967030
Email: sunbeamshome95@gmail.com
Non-Discrimination Policy
Yayasan Sunbeams Home (YSH) is committed to protecting the privacy of the children and adults living in the communities of Yayasan Sunbeams Home. As part of this commitment, YSH prohibits child photos from the SunbeamsHome.org from being used on other websites, medium, personal or commercial. Privacy Policy